Menopause Weekend Retreat
at Sitaram Studio, Tanglewood, Gunhouse Lane, Stroud, GL5 2DB
with Uma Dinsmore-Tuli PhD, author of Yoni Shakti

Saturday 22 July | 10am - 5pm
Sunday 23 July | 10am - 5pm
Are you (peri)-menopausal? Do you need a break?
Would you love to press pause on your life for just a weekend?
Would you love to rest and be nurtured all day long experiencing yoga therapy and ayurveda for menopause with Uma?
This weekend does just it does what it says on the tin! It's two days to rest, reconnect and restore your energies with yoga therapy for menopause. It's not complicated. Imagine two whole days of being pampered with yoga nidrā and yoga therapy, in our lovely home yoga studio in our small but pleasing garden in Stroud. From beginning to end, the weekend will be filled with a variety of yoga therapy practices, and deep rest. Yoga therapy techniques include practical experience of breath practices, rhythmic and restorative yoga postures (asana), energy locks and seals including pelvic, gestures (mudra), and heart-based meditations (yoga nidrā) that all helpt to promote healthy menopause including relief from typical issues such as excess heat, insomnia and anxiety. 
Simple Ayurvedic practices and the Ayurvedic approach to menopause for balancing the body and mind. By the end of the retreat, participants will have an embodied understanding of the key practical and theoretical yoga and ayurveda therapeutic range of responses that are helpful to support vitality and well-being during menopause.
There will be plenty of opportunities for questions and discussions of specific issues relating to menopause. This means that if you have specific personal or professional interests relating to this vulnerable and powerful time that you are invited to bring your questions and experiences to share with the group. The programme is open to responsive, intuitive attunements and adjustments to meet the specific needs of those attending. Uma will welcome you home to your Rested Self.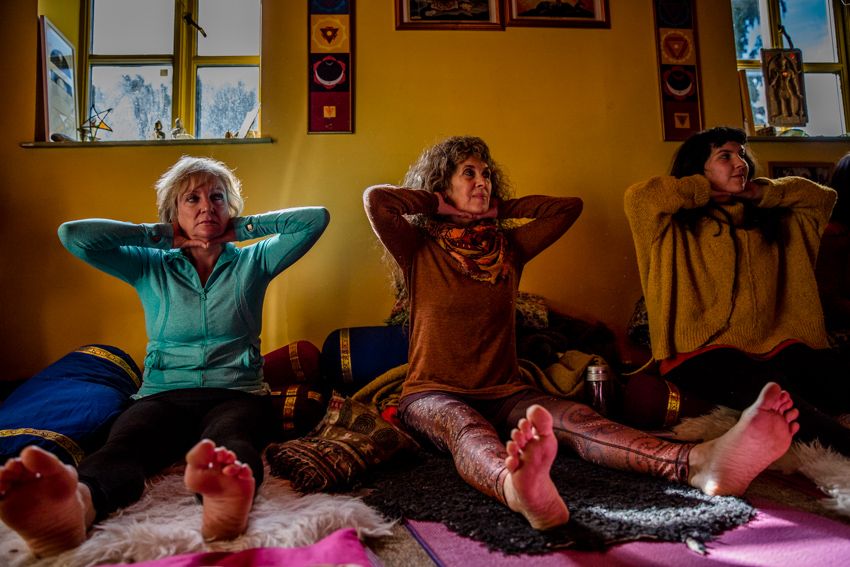 What will this weekend give me?
Time to experience the nourishing practical benefits of yoga therapy and ayurveda for menopause.
Space to enjoy a variety of nurturing yoga nidrās during the weekend.
A chance to let go of the stresses and anxieties of daily life.
The nurturing 'resonant echo' of yoga nidrā so you can feel how the benefits of the practice last for much longer than the practice itself.
The magical healing qualities of deep physiological rest, and nutritious movement, and a sense of how to replicate that for yourself when you go home.
What to expect?
To enjoy the experience being immersed in yoga nidrā and nourished by yoga therapy. There will be space for connection, discussion, nutritious movement and deep meditative rest. There will also be space for making personal and private reflections by journalling. With that in mind it would be very useful for bringing a journal and pen on the day.
What will I be able to do after this course?
To feel reconnected to balance and ease. To be nurtured, rested, reconnected to your resting self. To feel nourished deep in your menopausal bones! This is not a training course to facilitate yoga for menopause. It is a weekend of nurturing yoga therapy for menopause acknowledging and honouring the importance of deep rest, reconnection and restoration. It is a time to be enjoy being held in a dedicated space to experience the benefits of yoga therapy for menopause.

Schedule
Saturday 22 July | 10am-5pm
Sunday 23 July | 10am - 5pm
Arrivals from 0945 and departures by 5.30pm
10am Morning yoga nidrā to welcome you, and then rolling programme of yoga nidrā and yoga therapy specially for menopause with breaks and snacks as needed til lunchtime
1pm-2.30pm delicious home cooked LUNCH and optional country stroll
2.30pm Afternoon yoga nidrā, and then rolling programme of yoga nidrā and yoga therapy specially for you with breaks and snacks as needed til the end of the day
5pm day's close
All times are listed as UK Times


Investment £243
Including two abundant and delicious home cooked Ayurvedic organic vegetarian lunches, and plentiful snacks and refreshments. Please let us know at time of booking your needs and wants around your diet, and we shall be sure to offer you what suits you. If price is a barrier to attendance please call us and we can work something out.
Please note, accommodation is not included. Please see here for some suggested accommodation options in the area.

Related Teacher Training Courses & Self-Led Learning Experiences Available