ONLINE | START THE WEEK WELL, SUNDAY EVENING NIDRA WITH NIRLIPTA

Weekly on Sundays 7-8pm UK time, live on Zoom.
Everyone is warmly welcome. No experience necessary.
This is for absolutely anyone who would benefit from preparing to face the week ahead.
These weekly sessions are offered on a subscription basis, please see below for more information.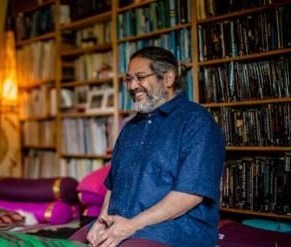 Is this course for me?
Imagine being able to prepare for your coming week by resting, being guided into the future, observing likely scenarios and schedules of these coming days. Live online, Nirlipta will share with you a special deep rest nidra that enables you to plan your week comfortably and easefully. This is a session to experience deeply restful nidra that stimulates the resources of your mind, in the best of ways, so that you can move into Monday rested and refreshed.
What do I need to bring?
Nothing at all, just your good self, your ears to hear, and a little space to settle into your own super comfy yoga nidrā nest for you to rest and listen wherever in the world you find yourself.
What will I learn in this Sunday session?
You will learn to rest strategically, to maximise energy, to minimise stress and anxiety by effortless planning in the very deepest rest state of meditative nidra. You will also learn to travel forward in time through your week ahead, so that you can organise your own week to suit you. Because you are planning from within the most deeply rested state, you can plan your way to experience restful freedom within the structures and schedules of your weekly activities.
What will I expect on the course?
This is a practical weekly session. Each week's practice is specially designed for you and the others who attend live online, so it is a combination of both structured and planned, but also improvised according to the needs of everyone attending on the Sunday evening. You may find it very helpful to journal after the practices.
What will I be able to do after this course?
You will be able to face the coming week from a position of strength and clarity, having
planned for it during the guided states of deepest and mental preparedness in meditative yoga nidrā.
I cannot make it live, will there be a recording?
Each week the recording will be shared (on Monday morning) in the Online Learning Sanctuary space for this course and will be available for one week.
I only want to attend once, do I need to subscribe?
Yes, simply unsubscribe after you have attended. You can resubcribe any time.
Please note that this course doesn't qualify you to teach or facilitate yoga nidrā.
It is entirely independent of any of our other courses, offered by the Yoga Nidrā Network. It is a nurturing, standalone event, and of course it also a nourishing choice for anyone who has done any of our other courses, workshops or training.
Everyone is welcome
Example Featured Products
Showcase other available courses, bundles, and coaching products you're selling with the Featured Products block to provide alternatives to visitors who may not be interested in this specific product.