YONI SHAKTI WELL WOMAN YOGA THERAPY IMMERSION
(the pre-requisite for the full
Yoni Shakti Well Woman Yoga Therapy Teacher Training)
IN PERSON | STROUD
2 DAY NON RESIDENTIAL RETREAT
Saturday, 29 July 2023 - 10am - 5.30pm
Sunday, 30 July 2023 - 10am - 4.30pm
With:  Sivani Mata Francis & Cecilia Allon
At: Sitaram Studio, Tanglewood, Gunhouse Lane, Stroud, Gloucestershire, GL5 2DB
Welcome home to your cyclical nature. Welcome home to Yoni Shakti Yoga Therapy for menstrual health.
Do you wonder how yoga can support menstrual health?
Do you crave a practice that honours and respects cyclical nature?
Do you want to learn yoga therapy techniques to promote menstrual well being?
Do you seek to reconnect or reconnect to the deep wisdom present in the menstrual cycle as an embodied spiritual practice?
Then this is the weekend for you!
Immerse yourself in the healing and nourishing yoga therapy practices of Yoni Shakti Yoga. This weekend offers a unique and powerful teaching combination of practical techniques, sharing circles, presentations and discussions with highly experienced teachers, Sivani Mata Francis and Cecilia Allon.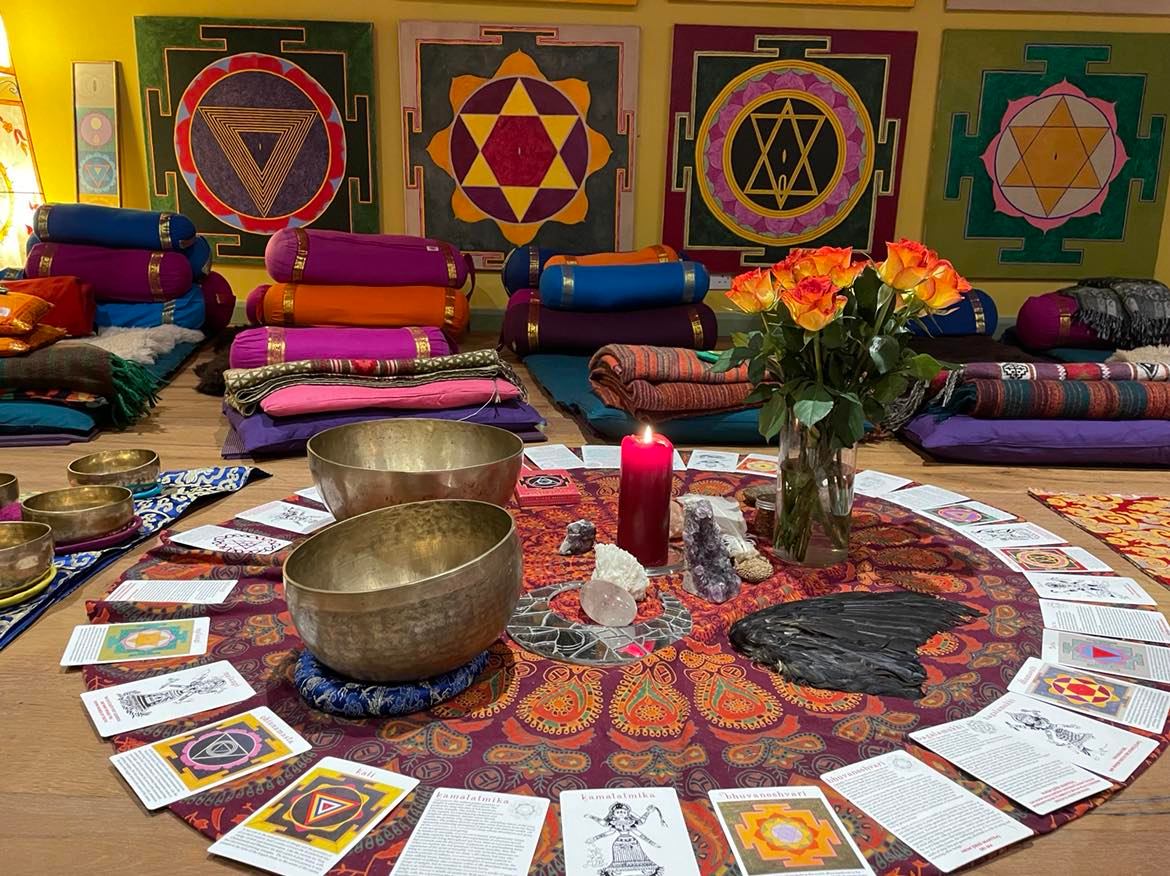 Who Is It For?

Everyone is welcome!
Especially if you want to learn key yoga therapy practices for each phase of the menstrual cycle, with deep relaxation practices to nourish your well-being, and friendly chats to share top tips and hints to live in harmony with your cycle.
This stand alone online immersion course gives you everything you need to know to start making friends with your menstrual cycle. It is also the pre-requisite for the Yoni Shakti: Well Woman Yoga Therapy Training course.

What to Expect
A cosy yoga nidrā nest in which to rest.
Yoga nidra practices, specially designed to nourish your rhythmic cycles.
Time to weave yoga nidra into the fabric of your dreams in a nurturing environment.
Restful, nourishing time in the Stroud Wisdom Goddes Temple wih Yoni Shakti yoag Therapists Sivani Mata Francis and Cecilia Allon
Access to Uma Dinsmore-Tuli's enormous library of inspiring yoga books!
Juicy discussions about the menstrual cycle, cyclical wisdom and sexuality.
Asana, mudra and mantra practices to support your cyclical rhythms
Gorgeous streams, valleys and woodlands on your doorstep!
Delicious home cooked, vegetarian lunch on both days, as well as snacks and refreshments throughout.
Access to the online Yoni Shakti Immersion as a special gift to continue your deepening into this work after our time together – the online course includes six exclusive seasonal nidra recordings, video recordings of the seasonal mudra meditations, and conversations between Uma and Sivani Mata for each season.

Schedule

This is a two day, non-residential retreat, which will take place on:
Saturday, 29 July 2023 - 10am - 5.30pm
Sunday, 30 July 2023 - 10am - 4.30pm
Location

We are delighted to welcome you to Yoni Shakti author, Uma Dinsmore Tuli's home studio, the Stroud Wisdom Goddess Temple in the beautiful Cotswolds:
Sitaram Studio, Tanglewood, Gunhouse Lane, Stroud, Gloucestershire, GL5 2DB


Related Teacher Training Courses & Self-Led Learning Experiences Available