BILINGUAL | TOTAL YOGA NIDRA TEACHER & FACILITATOR TRAINING (ENGLISH & SPANISH)
Total Yoga Nidra Teacher & Facilitator Training in Retreat Format
with Uma Dinmsore-Tuli PhD and Marta Carrascal

22 February - 03 March, 2024.
Amara Valley Nature Retreat, Girona, Spain. 



This is an intense bi-lingual, 10-day training in retreat format. It will held at the stunning Amara Valley Nature Retreat in Girona, Spain.
The Total Yoga Nidra Teacher and Facilitator Training trains yoga teachers and others to teach and facilitate yoga nidra with confidence in class settings, one-to-ones, and for a range of therapeutic applications.
Uniquely amongst yoga nidra trainings, it offers Total Yoga Nidra, a comprehensive, inclusive and non-dogmatic approach to yoga nidra that respects and explores not only a range of practice methods, but also acknowledges a variety of different levels of experience during yoga nidra.

This training is designed to provide you with the tools, knowledge, background, and understanding of the vast reach of yoga nidrā, including the philosophy, the psychology of yoga, and modern science.
Umā-Dinsmore Tuli and Marta Carrascal will co-teach this Total Yoga Nidra Teacher & Facilitator Training.
The training will be offered bilingually in English and Spanish, with live interpretation by Marta Carrascal.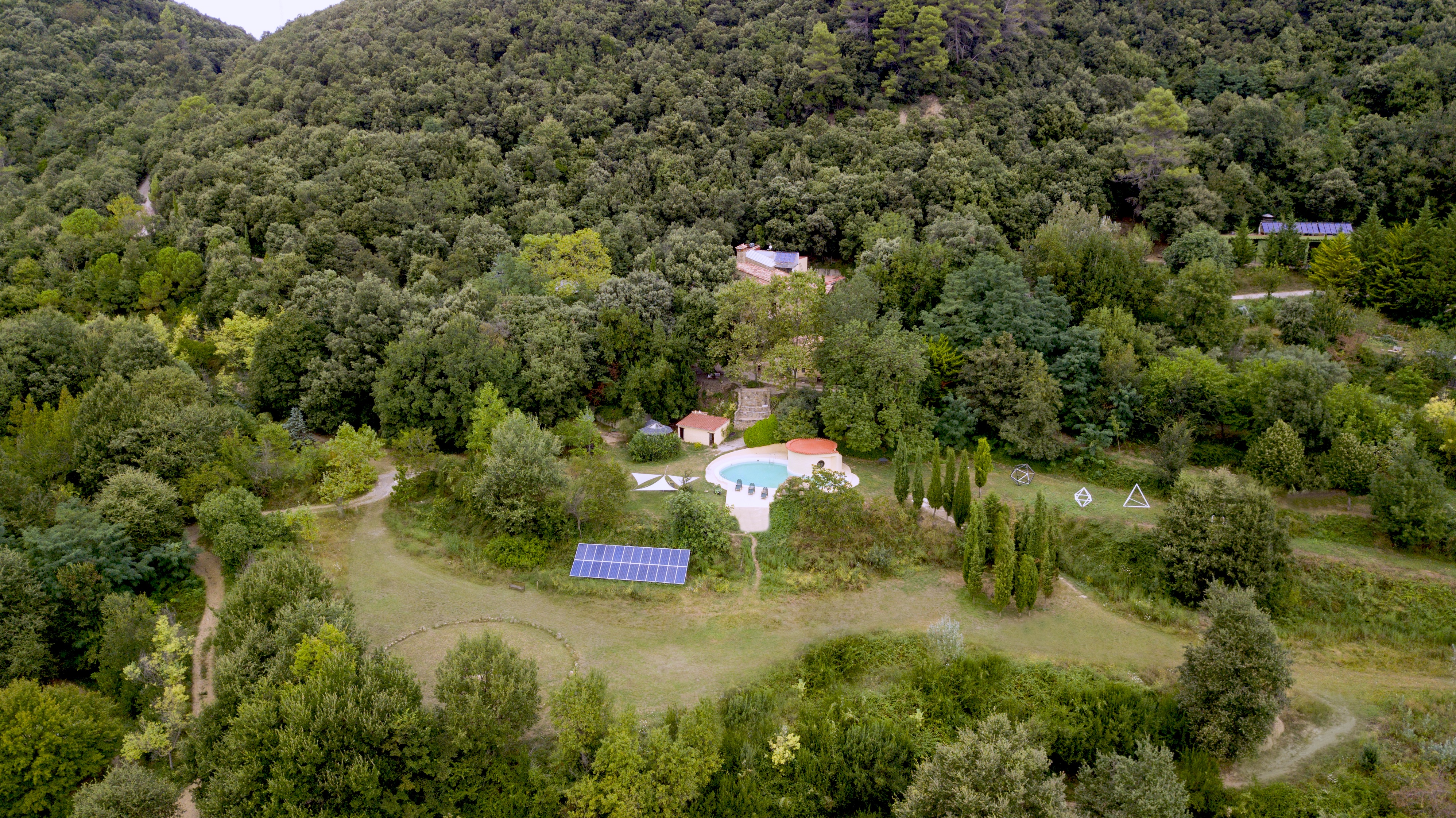 This training is for you if you wish to:

Encounter yoga nidra in its totality
Explore the multiple forms and levels of this remarkable yoga practice
Become empowered to deepen your own intuitive practice of meditative yoga nidra beyond the limits of standard trademarked and traditional forms
Understand the full living range of different methods, lineages and levels of total yoga nidra
Experience total yoga nidra as a living intelligence of the heart, an adaptogenic practice of deep healing and self-discovery
Grow in confidence to share responsive and appropriate total yoga nidra practice with students and clients
This training is designed by Uma Dinsmore-Tuli and Nirlipta Tuli, co-founders of the Yoga Nidra Network, who together have over forty years experience of practice, teaching and working therapeutically with all forms and levels of yoga nidra.
It is a uniquely comparative and creative, experiential course. It offers both practical training and personal and professional development.

What this training offers

This is a detailed, practical, and theoretical training that will equip you with the skills needed to create unique total yoga nidrā sessions for all your students and/or clients.
The course has been designed over twelve years and is a Approved for Professional Development for Continuing Education by the The International Association of Yoga Therapists.
This is one of the longest-running yoga nidrā training courses in the world, and is designed and taught by expert tutors with decades of experience.
We accompany our students and train them to a high degree of confidence and competence, through individual tutoring sessions, partner work, and group learning. This is an investment in your competence, creativity, and confidence.
This training will help you submerge in your own personal practice, in your dreams, and in your intuitive and imaginative capacity, while you learn to create yoga nidrā sessions which are appropriate for and sensitive to each person and/or group, and which are well-structured and effective for each occasion.



What to Expect

Beyond the daily in-person sessions with the group, there will also be partner sessions to do your first practices. You will receive tutoring with Umā or Marta during the retreat and will be invited to attend three (optional) Total Yoga Nidrā online open circles after the retreat to accompany you while you complete your case study.
On this training, you will receive:
10 days of practice, theory, and learning during the retreat (from 8am to 9pm) with two hours of rest in the afternoon, a one-hour lunch break, an hour for dinner, and time for tea, comfort, and integration
Three personal tutorials (one during the training and two afterwards) with Umā and/or Marta
Three open online Total Yoga Nidrā circles
A structured system for self-learning and practice during and after the training, so that you can write up the final project, a case study
A total of 70 hours of study, practice, training, and accompaniment in your growth as a teacher and facilitator of Total Yoga Nidrā
Online meetings
A complete training manual
The knowledge to be able to deliver and share daily Yoga Nidrā practices
Access to the Yoga Nidrā network online sanctuary
A forum for questions and dialogue with Umā, Marta, and/or the group before and after the training
Practical orientation
Structured learning
Lots of downloadable yoga nidrās
Access to the recordings of all live sessions during the retreat.
Upon finishing the training:
You may join the Total Yoga Nidrā Teachers Network Online Graduate Space
Receive a graduation certificate
Listing on our Total Yoga Nidrā teachers directory

What will I Learn?

You will learn:
to devise and deliver Total Yoga Nidra practices appropriate to your needs and those of your students and clients
a clear practical understanding of the structure and function of Total Yoga Nidra, including models of best practice, and techniques to be avoided
a practical understanding of the key principles of yogic psychology and philosophy relevant to the practice of Total Yoga Nidra
a contextual understanding of the development and history of Total Yoga Nidra across different lineages
to share Total Yoga Nidra with an informed sensitivity to the emotional and spiritual experiences of those receiving the practice
to teach a range of restorative yoga asanas suitable for use during yoga nidra practice
to teach within the appropriate safety guidelines for this type of yoga practice
PREREQUISITES FOR THE TRAINING
This course is open to anyone interested in deepening their practice with yoga nidrā or facilitating yoga nidrā.
The only requirement is to have completed the online Immersion in Total Yoga Nidrā before beginning the training or to have attended the introductory workshop in Spanish with Marta in Barcelona on 23 and 24 September, or to have taken this same introductory course last year.  If you to attend the course in Barcelona, click HERE form more information.


SCHEDULE
Thursday 22 February - Sunday 03 March, 2024
Arrivals Thursday 22 February between 3pm and 5pm - welcome circle at 6pm.
Departures Sunday 03 March after breakfast.
The full program will be delivered with the manual on the first day of the course.

INVESTMENT
Payment for this training is split into two parts:
Part 1 TRAINING FEES (to be paid upon booking)
1500€ - Earlybird price for bookings made before 10 October 2023
1800€ - For bookings made after 10 October 2023
Monthly payment plans are available.

Part 2 ACCOMMODATION AND FOOD (to be paid upon arrival)
Retreat with all meals and lodging in a quadruple room (shared with three other people): 760€/person
Retreat with all meals and lodging in a twin room (sharing with one other person): 850€/person



TO BOOK YOUR PLACE

1 Follow the booking link below to pay for the training element of the retreat. Accommodation and food is payable upon arrival.
2 Once you have enrolled on the training, you will have immediate access to the Online Learning Sanctuary, where you will be asked to complete a form stating your accommodation preferences. Please complete this form as soon as possible after enrollment.
All room and board bookings will be handled by Marta Carrascal. If you have any questions regarding accommodation, you can send a message to [email protected] and Marta will respond.



ABOUT AMARA
During the training, you will stay in the beautiful rustic eco retreat center, Amara Valley Nature Retreat, about one and a half hours from Barcelona, near Banyoles, with outdoor installations, surrounded by nature, forest, birds, a pool, a sauna, stone circle, paths for walking, and beautiful landscapes and surroundings.
The retreat center is designed to offer you all the comfort and space you need to deepen in your practices and enjoy your stay.
Sustainability is one of the main focuses at Amara: it is 100% off-grid, uses renewable energy, and contributes to a change in human consciousness for a greener planet.


FOOD DURING THE RETREAT
The kitchen at Amara will give you a new perception on healthy food. Carlota and the chefs at Amara Valley are recognized for the excellence of their meals and their attention to detail. The meals are designed with seasonal, local ingredients, creating dishes that are full of flavor, color, and nutritional abundance.
The kitchen at Amara can adapt to any dietary requirement (allergies, intolerances, gluten free, etc.)
Tea, fruit, and water is provided between meals.

TESTIMONIAL

'It's the best learning experience I have ever had.'
Rebecca describes her experience on the the 2023 retreat.



Bursaries
The bursary places for this course have now been allocated.



Course hours: 60
Accreditation:
The International Association of Yoga Therapists

On successfully completing all course requirements, you will receive a Yoga Nidra Network certificate of completion.