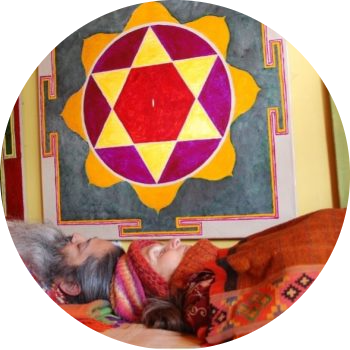 Yoga Nidra Support for Covid Recovery
Welcome to a self led healing program for recovery from Covid-19 and other chronic illnesses. Using the power of Total Yoga Nidra and hypnosis, this program offers an effortless route towards wellness through meditative practices. 
Total Yoga Nidra is a guided meditation usually practiced lying down. Practices vary from ten to thirty minutes in length and provides an opportunity for deep rest from which other benefits can arise; 
increased energy levels

more mental clarity and reduction of brain fog

greater feelings of positivity and lower levels of stress and anxiety

enhanced sense of wellbeing
What Does The Course Include?
There are 10 units to this integrated online course:
Introduction

Brain Fog

Passive Breath Nidras

Active Breath Work

Lack of Energy

Sense of Purpose

Lowering Stress & Anxiety

Recuperation & Healing in General

Self Directed Meditative Practices

The Way Forward
Each unit includes a video introduction, where Nirlipta explains the content, and a downloadable Total Yoga Nidra audio practice. You will be guided gently on a journey through easy, accessible breath, meditation, and imagining exercises. The course is approximately 8 hours worth of material, however, the pace at which you work through the course is entirely up to you.
You might choose to access the material in the order that it is presented, or prefer to jump straight to the section that appeals most to your needs. All of the material is available to access as and when you need. If you have any questions you can pop them in the comments section and our support team will be able to help you.
Total Yoga Nidra practices are the cornerstone of this program. Total Yoga Nidra is a simple lying down, audio led, meditative practice that can be done by anybody. 
No prior experience of yoga or mediation is necessary. 
Spending time in Total Yoga Nidra is proven to calm the nervous system. Regular practice creates optimal conditions for self healing and supports new neural pathways being activated. Engaging different brain wave activities, such as delta, encourages deep tissue repair, rest and healing. All of this is reinforced by repetitively listening, passively or actively, which consolidates and deepens the effects of the practices. In particular, by focusing on the positive aspects of getting better rather than the negative aspects of having long Covid.
Outcomes from the course have included increased energy levels, mental clarity and enhanced feelings of positivity and wellbeing.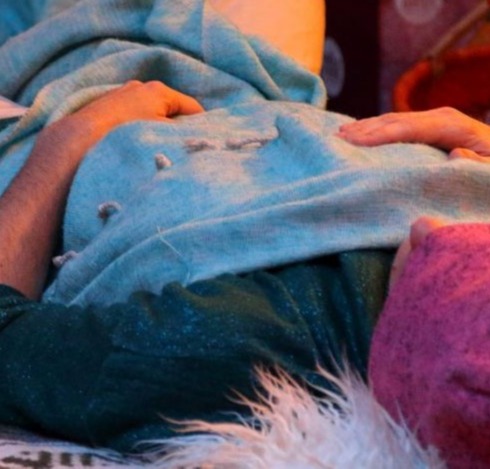 Testimonial
"The clear and simple ways of these Nidras create a feeling of comfort, not only physically, but also emotionally, comfort and trust. And with comfort and trust one can build confidence, which allows for recovery.
The pace is slow and the tone is soothing, anyone can step in and follow your voice..... then move away... renewed and centred.
These Nidras offer us a place of solace, through your presence and your caring."
— Victoria Long